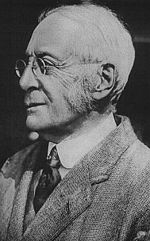 The Harvard Classics is a 51-volume Great Books list, compiled and edited by Harvard University president Charles W. Eliot in 1909. All volumes are now in the public domain. Free pdf versions (and other formats) are available at archive.org. A complete list of volumes and links is supplied below.
Of interest is Dr. Eliot's suggestion that a superior education can be gained by reading from this list for only 15 minutes a day. Let's verify the math. At a reading speed of 1 page per minute, one would read 15 pages per day, or 105 pages per week by Eliot's plan. Assume an average length of 400 pages per volume. At the prescribed rate it would take 27 days to complete a volume. To finish the entire set would require 1,360 days, or 3.72 years. Thus, within four years - the usual time allotted for undergraduate college study, the complete series could be read: and, indeed, at only 15 minutes per day.
Now the really impressive thing is that a person who read these 51 volumes would not just be well educated, but to a level significantly better than is supplied by a standard university curriculum. One might go so far as to say that a person who read the Harvard Classics would establish him- or herself as a leader, someone possessed of rare (and today vitally necessary) intellectual skills. With a mind thus disciplined, one could easily launch a successful career or accomplish any other endeavor of one's choosing.
Some links to other Great Books lists and material for college-level self-study are supplied following the list.